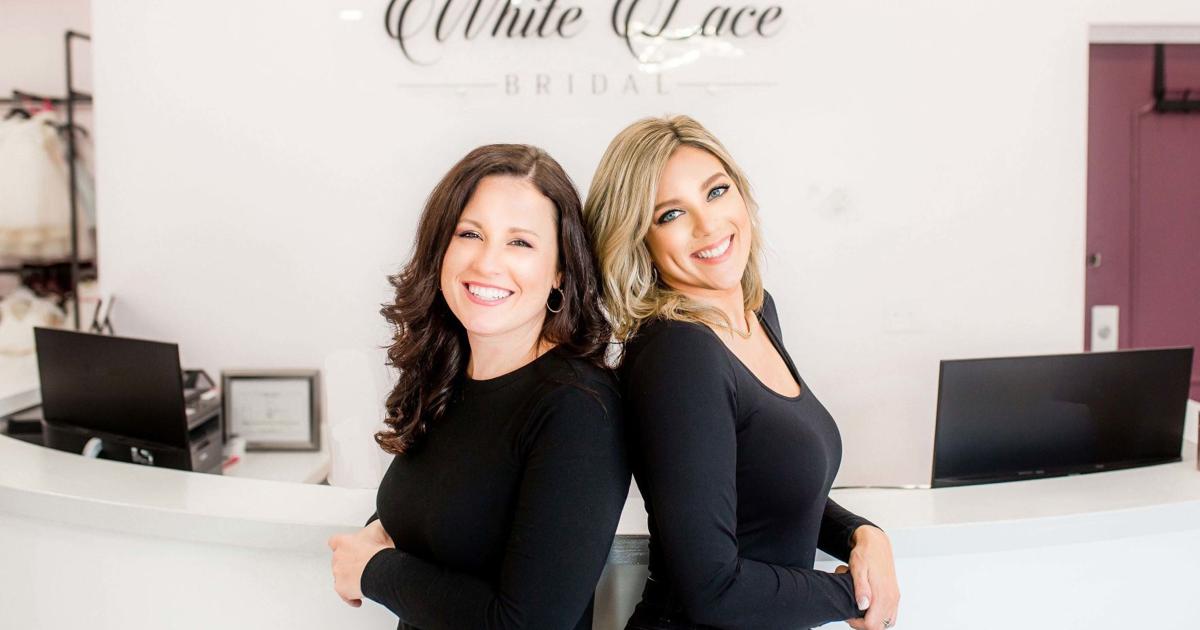 Women in Business: White Lace Bridal Built in Small Steps, Big Goals | Local News
The past six years have shown big changes for Indiana-area "one-stop bridal boutique," ​​White Lace Bridal.
What started as an Etsy shop in 2014 for owners Cari Bailey and Jodi Bartholomew, who also rented decor and linens at the time, has grown — first in a small space on North Fifth Street in the Indiana Borough in 2016, moving to a larger boutique in White Township in 2017 before moving to the current location of 80 North Ave. in White Township.
"We set ourselves a five-year goal that we wanted to own a building instead of continuing to rent it. The building we purchased had captured our attention for several years and we were finally able to move forward with the purchase," Bartholomew said.
Setting goals is advice the couple would give to any woman with a business dream.
"Take small steps. Keep trying and don't give up, surround yourself with supportive people," Bailey said.
That's exactly what the women, who met about 14 years ago while working at the Indiana Regional Medical Center, did.
"I got married and Jodi helped me plan my wedding and we both knew we had a passion for the wedding industry," Bailey said. "Travelling out of town for everything was a hassle."
White Lace solves this problem for local women. The new location features three bridal suites that are part of a round structure that allows each bride to have a semi-private experience with family and friends.
"We want our brides to feel special and to be able to help them find the perfect dress for their perfect day," Bartholomew said.
While the showroom offers a variety of wedding dress styles, colors and silhouettes, brides are encouraged to take a look online before their appointment to get inspired and get an idea of what they might like. Bailey and Bartholomew said it helps their consultants better understand what the bride is looking for.
There are currently eight employees at White Lace Bridal, and all of them are women.
"They're an amazing group and we're proud of our employees," Bailey said. "They all have such ambition and really enjoy helping our customers find the perfect outfit. We pride ourselves on selling an experience, not just a dress.
While the website presents White Lace Bridal as a modern bridal boutique with an Instagram-worthy vibe, the space is also perfect for those celebrating other occasions.
A designated space for prom and homecoming dresses has recently been added with short and long formal dresses.
"Prom is right around the corner and it's been exciting helping these clients, as proms for the past two years either didn't happen or looked a little different," Bailey said.
This difference was due to the start of the pandemic in 2020, which affected both proms and weddings. The store was closed for a few months, but the owners said they didn't really see any canceled weddings.
"Brides have downsized their weddings," Bartholomew said. "They continued or may have rescheduled."
This year, they notice that the size of marriages is increasing again and seems to be returning to what it was before the pandemic.
White Lace also offers tuxedo rentals and dresses for the bridal party, mothers of the bride and bridesmaids.
Although they no longer offer rentals, bespoke invitations are still available through the Etsy shop that started it all, and the pair feel like they've really found their niche.
"We wanted to continue what we love to do," Bailey said.
When not working on their business, Bailey and Bartholomew keep busy.
"I love spending time with my family, I have an 8-year-old son who takes care of me," Bailey said. "Jodi enjoys spending time with her family and her dog."
Bailey also enjoys taking her family to their camp in the mountains to relax, and Bartholomew, who has a 14-year-old daughter and 20-year-old son, loves baking, fashion and home decor, according to their website.
When asked what advice they would give to a woman who is still working on her goals, they encouraged her to keep going.
"Never give up. Keep going for your goals. It's a struggle to get there," Bailey said.
"Everyone says there were all these things there for women, but we didn't see them. Do not abandon.