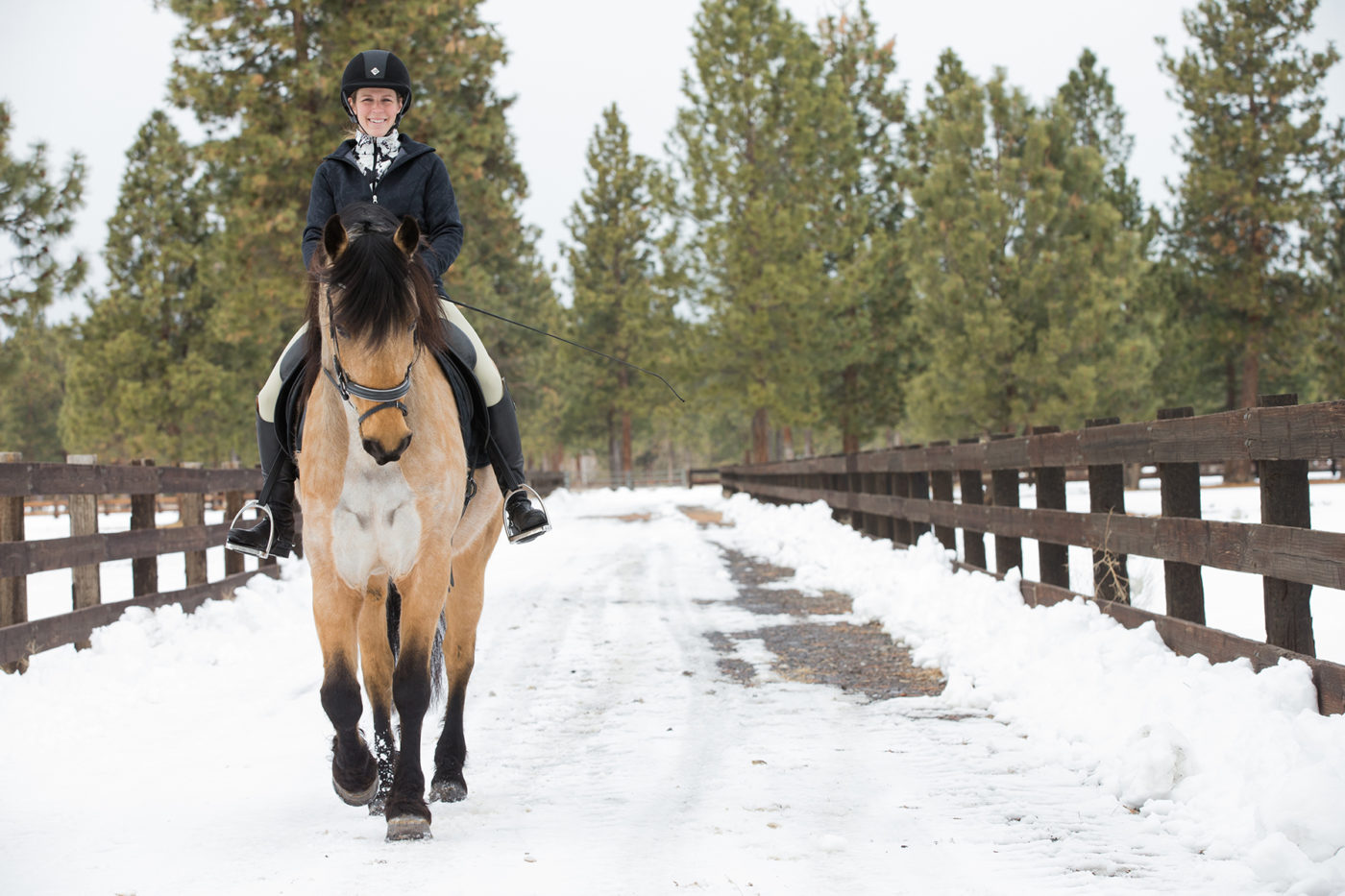 What to wear for winter riding
March 02, 2022
Insider's guide: what to wear on horseback in winter?
The United States Eventing Association (USEA) recently announced the new partnership with Kerrits, as the official USEA competition and training apparel. "Kerrits is a very popular brand among eventing enthusiasts nationwide," said USEA CEO Rob Burk. "Their items are designed for performance, comfort and fashion, and it was only natural that they join them." USEA is proud to partner with this innovative brand and is happy to provide some winter performance tips below. Be sure to visit ShopUSEA.com for more Kerrits and USEA apparel.
At Kerrits, we take winter driving seriously. With our home in the Pacific Northwest and a team of riders stretching from Colorado to New England, we've been through it all: rain, sleet, wind, ice and snow.
That means we've dealt with all the winter barn problems: scalding ourselves with buckets of ice water, putting on lip balm before hugging a losing horse, and rolling around in an interior with ice sliding off the roof. With those years of experience in our back pocket, we've designed performance riding apparel that will help you confidently face whatever winter has to offer.
Here's our ultimate guide to winter riding gear – it's the secrets smart riders use to stay warm, dry and happy while riding in the winter. We'll help you find the best winter riding tights, the best winter riding coats, and all the rider accessories you need to saddle up and ride all season long.
Winter Challenge #1:Constantly changing temperatures
Solution: A smart layering strategy
It's cold outside, but when you're riding or working around the barn, you can warm up quickly. That's why we recommend a layering strategy to help deal with temperature fluctuations.
Start with a base layer made of a soft, high-tech absorbent fabric that wicks moisture away from your skin to help prevent chills. Look for fitted styles that help trap body heat and provide core warmth. These base layers are ideal for building the foundation of your layering system, but they can also be worn alone on warmer days. Shop the wide variety of base layer tops and lightweight tights from Kerrits.
Then add your mid layer, which provides insulation (i.e. warmth). These functional layers keep you warm during the coldest rides and are versatile enough to wear on their own during the cooler transitional seasons. Made from technical fabrics, Kerrits midlayers retain heat while providing complete freedom of movement. For example, our riding vests and quilted jackets have two-way zippers that open easily in the saddle.
Finally, add your protective outer layer. From waterproof and windproof jackets to all-weather tights and jodhpurs, these layers epitomize functionality. Kerrits specially designs winter riding apparel in durable barn-worthy fabrics that protect against the elements. And of course, we always include features designed for the rider to provide comfort and performance while riding.
Winter Challenge #2:feel like a marshmallow
Solution: Fabrics and features that provide warmth without weight or bulk
If dressing for winter makes you feel like the Stay Puff Marshmallow Man, we can help you figure out what you should be wearing this winter! You don't need more layers, you just need smarter layers.
When choosing your mid layers for riding (remember, these are the ones that insulate to keep you warm), aim for the lightest and thinnest fabrics. Our lightweight fleece tops have a streamlined fit and flatlock seams, making them easy to layer while offering complete freedom of movement. Plus, they come with longer zippers for ventilation and easy on and off without taking your helmet off. We also offer a merino wool jacket and riding tights that provide warmth without the bulk, and are quick drying, breathable and naturally odor resistant.
Vests are a great mid-layer because they provide core warmth without contributing to that bulky arm feel. Two-way zippers and back pleats add even more freedom of movement.
If you want to stay warm without sacrificing a polished look, we recommend the 3-Season Fitted Pant. A triple combination of sleekness, warmth and grip makes this the perfect cold weather bolt-on solution. For anyone who shows horses or hunts foxes in the colder months, the Winter Circuit Show Shirt is a must-have. You heard us right, a show shirt for winter horse shows or for a refined winter riding outfit. This unique soft knit shirt has a cozy brushed fleece interior for added warmth while maintaining the look of a traditional show shirt.
Winter Challenge #3:The elements (rain, snow, sleet, wind, etc.)
Solution:Weather resistant outer layers
If your ultimate goal is to stay warm and dry at the barn this winter, you'll need the best of the best riding outerwear.
Kerrits offers you windproof, water-repellent and extremely warm winter riding tights and breeches. Our customer favorite is the Sit Tight Wind Pro® Knee Patch Tights with Polartec® Wind Pro® fabric that insulates while deflecting snow, sleet and icy gusts.
We also offer several styles of equestrian riding jackets that are fully waterproof and fully seam sealed. With features designed for the rider like extra-large hoods that can fit over a helmet (and then be neatly stored in the collar), rear pleats that open to cover your saddle, and two-way zippers that allow freedom of movement in the saddle, you are sure to find the best winter riding coat for you.
Bonus Winter Challenge:Riding "fresh" horses
Solution: Kerrits Full Seat Winter Pant
When the weather gets colder it can sometimes make our horses a little frisky. If you need extra grip to stay in place, we've got some of the best full-bottom riding breeches for winter riding.
Riders all over the world love our Sit Tight Wind Pro® full seat tights. Full GripStretch™ Suede saddle provides medium grip strength with a slight stretch that allows you to move with your horse. Additionally, these winter riding tights are lined with fleece for comfort and have a deep side pocket for your phone.
If you prefer a traditional cylinder head style, the Custom 3 Season Full Seat Cylinder Head is the best full seat winter cylinder head for you. With a sophisticated design, a fleece interior for extra warmth and our unique Kerrit Sticks™ full silicone seat, these breeches will keep you warm and provide the extra grip you need when your horse gets that extra spring in his step. .
Now that you've come up with a smart layering strategy, we hope you're ready to get out there and enjoy the ride this season!