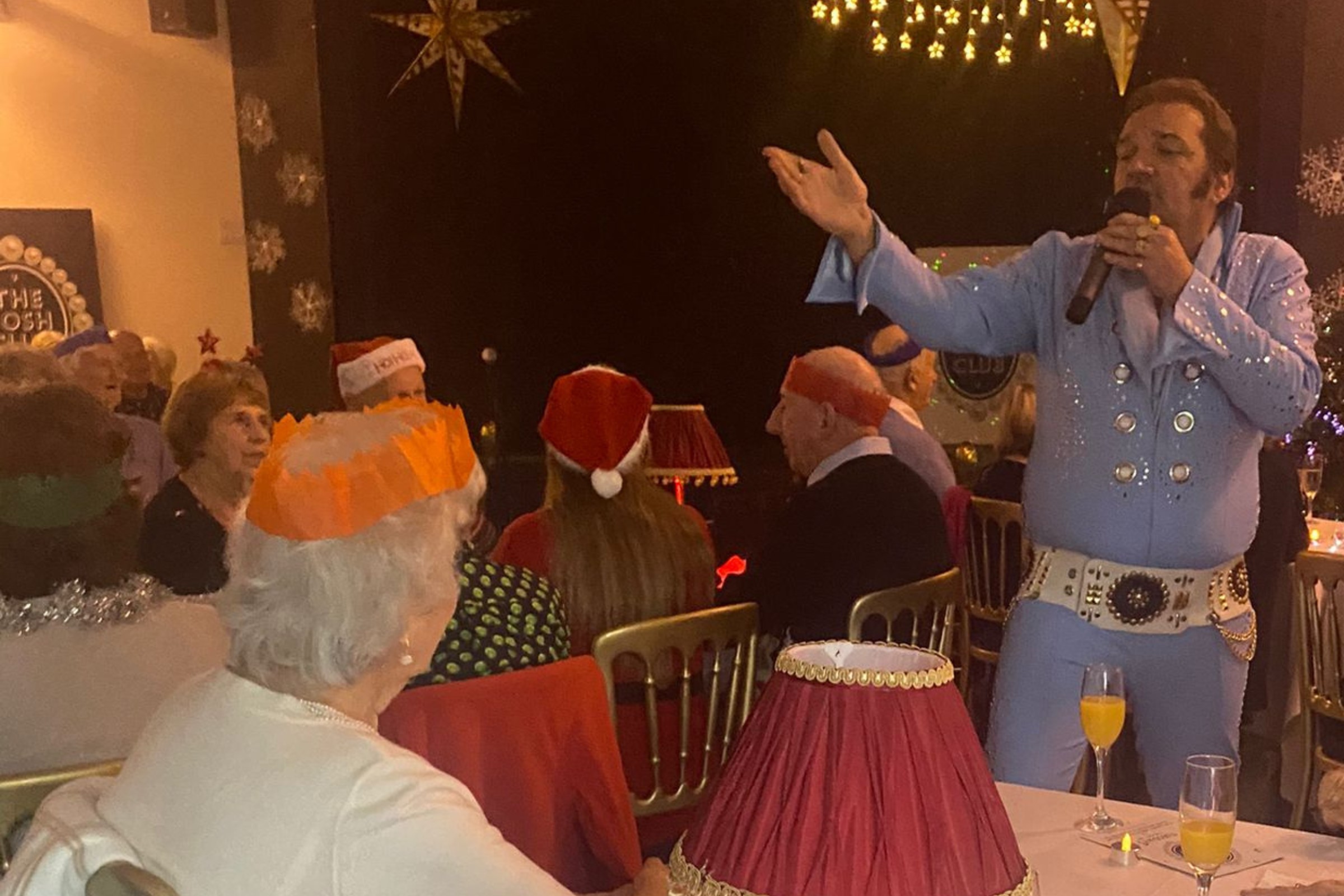 "We opened a nightclub for seniors"
My mum lived in Hackney, London for most of her life, but my dad passed away, so she was really alone and isolated there. I had moved to a town in England called Crawley, so she sold her house in London in 2003 and bought a house right next to me.
Mom made a few friends when she moved, one of whom was a next-door neighbor who was 90 years old. I suggested hosting a tea party for her and her friends, and bought some old dishes and a cake stand from a thrift store, made some good food, and gave them a little present to each. I couldn't believe the joy it brought them. But when people are quite isolated and someone does something special for them, it's so important.
They absolutely loved it, so I made it several times. Then my brother, Simon, said we should do it on a larger scale and bring the concept to a lot more older people who are in the same situation.
Simon was able to get us a little funding, so we held a pilot event in Crawley at a church hall and called it The Tuesday Club. We decorated the room in a vintage spirit, bought second-hand tableware and pretty white tablecloths. The old people came in evening dresses and tuxedos and we had two or three musical performances. About 20 old people showed up for the first one, but once they got there they were telling their friends how great it was.
We ran a number of Tuesday clubs and subsequently secured five years of funding from the National Lottery Community Fund. My mom knew we got the funding, which was really sweet, but sadly she passed away before we started our new version of the event.
We finally got a bigger room in Crawley, painted it and gave it some love. Then Simon came up with the name: The Posh Club. It's supposed to be ironic, because the guests come out and dress up. It is for working class people or those who are not able to do so many special nice things but can join in this wonderful afternoon.
The seniors were coming and they loved it. There was nothing like it, and there still is nothing like it. But it takes a lot of funding to set it up, because there's a lot going on. We run The Posh Club on Tuesdays for 30 weeks of the year and charge each senior £5 ($7) to come, but the vast majority of costs are covered by funding.
Many people call it a nightclub during the day, because we close the curtains and have music and shows. The lights are dimmed and the old people get up and dance and sing and have fun.
After a while we decided we wanted a Posh Club in Hackney as Simon knows lots of artists and people in the area who could help out and perform. And of course, mom lived there. It's really perfect because it's in a church—with a very accommodating vicar!—just around the corner from where she lived.
Simon lives in Brighton now and there were a lot of people there who wanted to be part of the Posh Club and have one there. So now we have Posh clubs in Crawley, Brighton, Hastings and Hackney in London. Some Posh Clubs are louder than others! Hackney is completely mad.
I now go to the Posh Club in Crawley and greet everyone at the door. I know most of the guests now, and I make a seating plan to see where everyone is seated and make sure everyone is comfortable.
Volunteers take jackets, then our elders are brought to their tables and served tea and coffee. At 12:15 pm we have sandwiches, cakes, scones and jam while a pianist plays soft music. Right before our first act started, we started doing a "maracas dance", where we go around the tables dancing with maracas, and the guests have maracas on the table so they can participate. While the acts are happening, I'll go around the tables with a teapot to collect their £5 ($7) entry and give them each a raffle ticket.
We try to have performances suitable for the elderly and have a lot of tribute acts, Elvis is very popular. We recently had an old school juggler called The Gentleman Juggler, it was very sweet and fun, people loved it.
Just before the start of the main act, each senior receives a glass of champagne. So they sip their champagne while watching a show and dance if they want. What better afternoon is there than this?
Our rule is that you cannot enter if you are under 60 unless you are a carer or elderly guest, although we do not encourage many younger guests. Someone came recently who was new and was going to be 60 the following week, so of course I said they could attend. Every once in a while we get someone who is "underage" and I will have to decide. But obviously it is necessary if they ask for it, then we will allow it.
One of the Christmas cards we received recently contained a note that stuck in my mind. He said, "You bring sunshine on a Tuesday." This lady lives alone, so she is quite isolated. For many people, the Posh Club is the only social event they host each week.
You could say that we save the elders in a way, but they also save us. We get so much out of it. I know I do. I grew up doing The Posh Club so much, so it's really a two-way street.
It's my full time job, I eat, sleep and breathe The Posh Club. But I also have two daughters and four grandchildren and the wonderful thing is that I can fit it into my life.
We had quite a few couples who got together at the Posh Club and stayed together, and so many friendships started. A lot of people who maybe had no friends or had a very small group of friends now have a lot of friends. It's a small community.
Unfortunately, we have just lost one of our guests; he was the epitome of a classy clubber. Brian was such a wonderful character. He had no children and he and his wife went together until his death. Then Brian met someone else and they used to come to the Posh Club together, but after a few years she also passed away. He was so helpless, but he was the most wonderful person. He would come in all kinds of outfits and bring all these weird and wonderful vegetables to the Posh Club for us to raffle off.
Eventually he met someone else at the Posh Club. He was in his late 70s and I think he realized he only had one life. A week before he died, I spoke to him and he told me he was going to be at the next Posh Club, but he sadly passed away the day before the event. I knew he had cancer but I just thought it would go on forever. He was wonderful.
We're running out of funding in March 2022, so we're asking for more and crossing our fingers for luck, but we'll keep going one way or another. It would be great to be funded by the government, so there had to be a Posh Club in every town. Wouldn't that be lovely? But the personal touch and attention to detail is so important. It cannot become banal.
People have very busy lives, but it would be great to have more younger volunteers so they can see how much of a difference it makes and realize how much it is needed and wanted.
It's so sad when people are alone. But then the seniors come and they are so happy. It makes us happy because we know we are doing something that brings sunshine into their lives.
My mother would be so proud and so happy. She would be first in line, as she was before.
Annie Bowden and her brother Simon Casson are the founders of the Posh Club. You can learn more about theposhclub.co.uk or follow them on Instagram @the_posh_club.
All opinions expressed in this article are those of the author.
As said to Jenny Harvard.