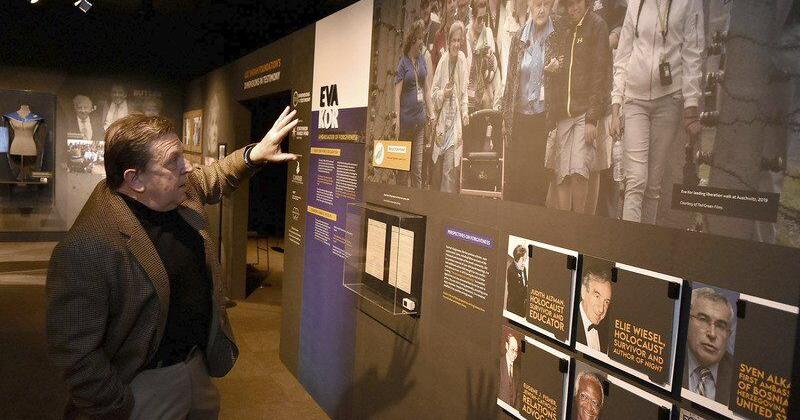 Tribute to Eva: Indy Exhibit Commemorates Extraordinary Life | Local News
Two dresses featured at the 'Eva Kor from Auschwitz to Indiana' exhibit tell a profoundly different story, taking visitors from the horror of a child facing a Nazi death camp to the joy of a tradition Hoosier who celebrated his inspiring life.
One is a reproduction of the scarlet red robes that Kor and her twin sister Miriam wore when they were 10 years old on the Auschwitz selection platform; the other is the long blue evening dress she wore to the Snakepit Ball at the Indy 500 festival when she was named parade grand marshal in 2017.
When visitors see the scarlet robes and realize how young Eva and Miriam Mozes were when they arrived at Auschwitz, "it really affects them," said Daniel T. Shockley, creative director of exhibits and audience experience at the Eugene and Marilyn GlickIndiana History Center. , where the exhibition is currently on view.
At this selection platform, the twins were separated from their parents, Alexander and Jaffa, and sisters Edit and Aliz, who were killed in the gas chambers. The twins were used for the experiment under the direction of Dr. Josef Mengele.
The exhibit honors Kor, a Holocaust and Auschwitz survivor remembered for her message of hope, forgiveness and the power of the human spirit.
The exhibition, which runs until January 2024, chronicles Kor's life from childhood in Romania, through the Holocaust, after World War II, his years of activism and his inspiration as a ambassador of forgiveness.
The exhibition contains numerous audiovisual documents; hands-on interactives; Pictures; information boards; graphic; correspondence; items and artifacts.
It includes an interactive experience in which visitors can take a virtual tour of Auschwitz with her. It contains material from the WFYI-Ted Green Films documentary based on Eva's life, "Eva: A-7063".
Additionally, the USC Shoah Foundation's Dimensions in Testimony allows visitors to converse with Eva via a hologram-like projection. Guests can hear his personal testimony and ask questions that interest them – learn more about his story in his own words. It is on loan from the CANDLES Holocaust Museum and Education Center.
"His story is amazing," Shockley said.
Shockley didn't know much about Kor when work on the project began a few years ago. Over time, he was struck by her drive and strength and her inability or reluctance to accept the word no for an answer.
Kor "did extraordinary things with his life, but he was an ordinary person. I believe an important part of his message to us is that no matter who we are or where we come from, we can do amazing things too," he said.
Kor survived the Holocaust, eventually forgiving his tormentors, and then inspired people around the world to find healing through forgiveness. She also believed that everyone had the power and responsibility to make this world a better place.
"Mom and dad would be very happy"
Alex Kor, Eva's son, has visited the exhibit five times now, and each time he sees something he has never seen before. He and his sister Rina donated some of the artifacts.
"It's just amazing, all the details here in a relatively small place. … I encourage everyone to come here," Alex Kor said Thursday.
As he takes another tour of the exhibit, he shows family photos that bring back fond memories, including of the family of four – Eva, Father Mickey, Alex and Rina – riding their bikes together.
Alex shows his favorite object in the exhibition, a menorah or a candelabra. Every Friday night, when he was younger, his mother would light the Shabbat candles, the Jewish Sabbath.
"To me, it represents my youth and my innocence," he said. The menorah "is very symbolic of how my mom and dad wanted to raise us."
The family was not religious "but our parents wanted us to know and never forget that at the end of the day, we were Jewish," he said.
Later in the tour, he asked his mother about the Dimensions in Testimony hologram.
"Who is your favorite child?" he asked mischievously. Her mother replied, "I have no comment on that."
He also asked his mother for his favorite song, and she sang it: The Impossible Dream.
Other questions posed by him and Shockley took on a more serious tone, including why she believed the other survivors were unwilling to forgive the Nazis.
Elsewhere in the exhibit, Alex pointed to a photo of her mother leading a group on a 'liberation march' to Auschwitz, which she did whenever she took a group to visit the concentration camp. . The group marched between barbed wire fences, similar to Eva Kor's own release in January 1945.
"She found it very symbolic," he said.
He also pointed to the letters of forgiveness his mother wrote to her parents and read at Auschwitz every year. She resented them for not protecting her from harm; they had the opportunity to leave Romania in 1939.
Reflecting on the overall impact of the exhibit, Alex Kor said, "My mom and dad would be very happy.
The hope of a son
After her mother died on July 4, 2019, "I wanted to have a very visible place to continue telling her story here in central Indiana," Alex Kor said. "It obviously gives me that opportunity – to continue to tell her story and hopefully continue to do her job and give more meaning to her life even after she's gone.
"I hope his legacy will live on in the hearts, minds and souls of children around the world and especially here in Indiana," he said.
Alex Kor hopes people will be inspired by his mother's story, not saddened.
"I hope that when they leave here they won't cry, they won't be sad," he said. "I would like every person to leave here with something positive that they can bring back to their family, their class, their friends, to try to make the world a better place."
Residents of Hoosier are "very lucky" because they have two places to learn about the Holocaust: the Indiana Historical Society and History Center and the CANDLES Holocaust Museum and Education Center in Terre Haute, which his mother founded.
The Indianapolis expo offers interactive opportunities, including "reflection points," intended to "sow seeds" among visitors and get them thinking and talking about how they can make a difference, a said Shockley.
A point of reflection asks, "What does forgiveness mean to you? Another says: "Eva ended many of her speeches by asking people to commit to doing one thing to make the world a better place. What will you do to make the world a better place?"
An interactive screen also invites people to write down what they will do to make the world a better place.
"This exhibit, like all of Eva's story, is not meant to be left in one place. It's meant to go out into the world with you," Shockley said.
Eva Kor's story helps people remember the horrific past of the Holocaust and connect it to today so it won't be repeated, he said.
Unfortunately, many cases of genocide have occurred since the end of World War II. Shockley hopes the exhibit will open people's eyes and remind them, "If we don't all act individually, these things will happen again and again.
Visitors
Among the visitors to the exhibit on Thursday were Jon and Shannon Cliff from Minnesota, who were in Indianapolis for a health care convention.
"I'm very impressed," said Shannon Cliff. "I haven't seen anything like it" being able to ask a hologram questions and receive answers.
Shannon Cliff had heard of Eva Kor and seen a documentary. "It's really interesting to be able to ask him questions. …He's an amazing soul.
Bruno Aurnhammer, a fourth-year medical student at Marian University from Germany, was also moved by the exhibit. He was following Alex Kor, who is a podiatrist.
"I relate to the subject of this exhibit," Aurnhammer said.
Her brother, who is disabled, lives in a community in Germany that has a memorial dedicated to many people who were taken away and euthanized by the Nazis; individuals had disabilities.
Aurnhammer is moved by how Eva Kor "overcame adversity and dedicated her life to bringing about change and making this world a better place for others, something I'm trying to do too," he said. declared.
Sue Loughlin can be reached at 812-231-4235 or [email protected] Follow Sue on Twitter @TribStarSue