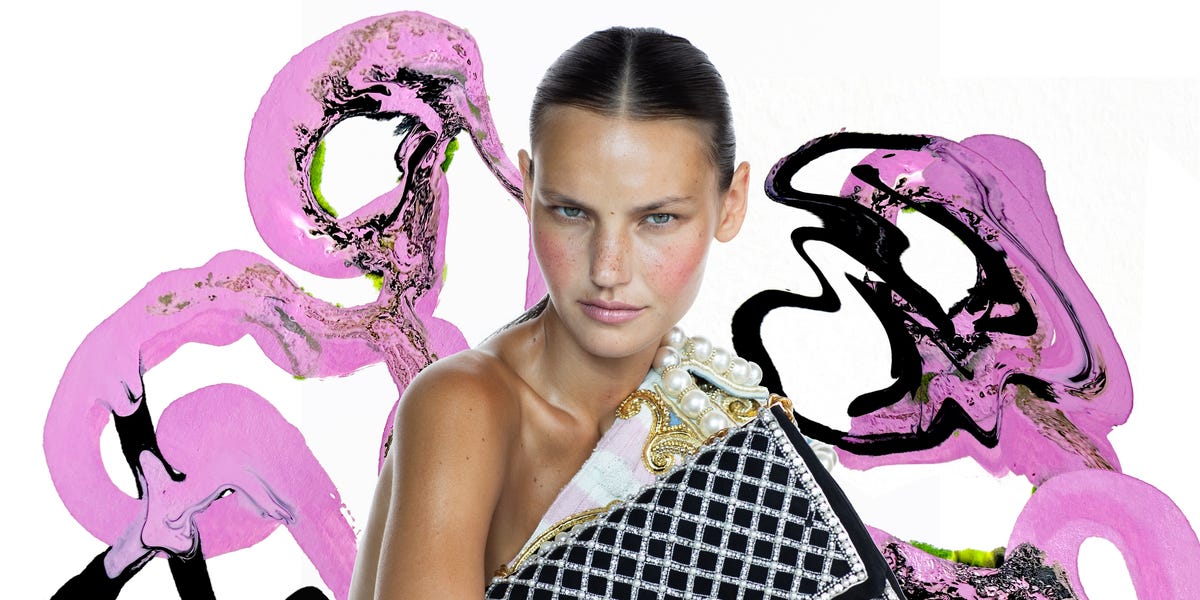 Since taking over as Creative Director of Balmain in 2011, Olivier Rousteing has presented collection after collection that seamlessly blends the house's heritage with modern panache. Baroque embroideries, utilitarian influences and military details are skillfully infused into each season's offerings, with colors, silhouettes and style evolving to reflect trends and predict the cultural zeitgeist. The recent warp speed at which technology is developing has proven to be an inspiring touchpoint for Rousteing, visible in the brand's apparel and accessories, as well as the way they are presented.
"There's a futuristic approach to all of her shows," says stylist Cassie Anderson. "Olivier plays with technical fabrics, screen printing, elaborate layering and elegant eyewear." He also leans into vibrant hues and bold accessories. For Pre-Fall 2022, houndstooth separates are fashioned in video game-inspired neon green, and while the house's signature embroidered dresses are marked with bright green and electric pink detailing. Additionally, Anderson notes that there are "1980s silhouettes with hints of body armor and corsetry, as well as a mix of textures – from patchwork and lace to beading."
Among the pieces that tie together the techno-tinged aesthetic is the Balmain 1945 bag. Crafted by Rousteing in jacquard and supple leather, the brand's instantly iconic style comes in a multitude of shapes and sizes, designed to be worn on the go. shoulder, across the body or as a clutch. In black and embellished with pearls, the Balmain 1945 adds a sophisticated touch to tight mini-dresses; it's a maximalist's dream when paired with an intricately beaded jacket.
Neon faux-leather styles, accented with chain straps and plaque-like clasps inscribed "Balmain Paris 1945," are a testament to Rousteing's expert fusion of past, present, and future. Wear one with a monochromatic Balmain dress for a bold color, or add it to an already vibrant ensemble. At Balmain de Rousteing, there are no rules.