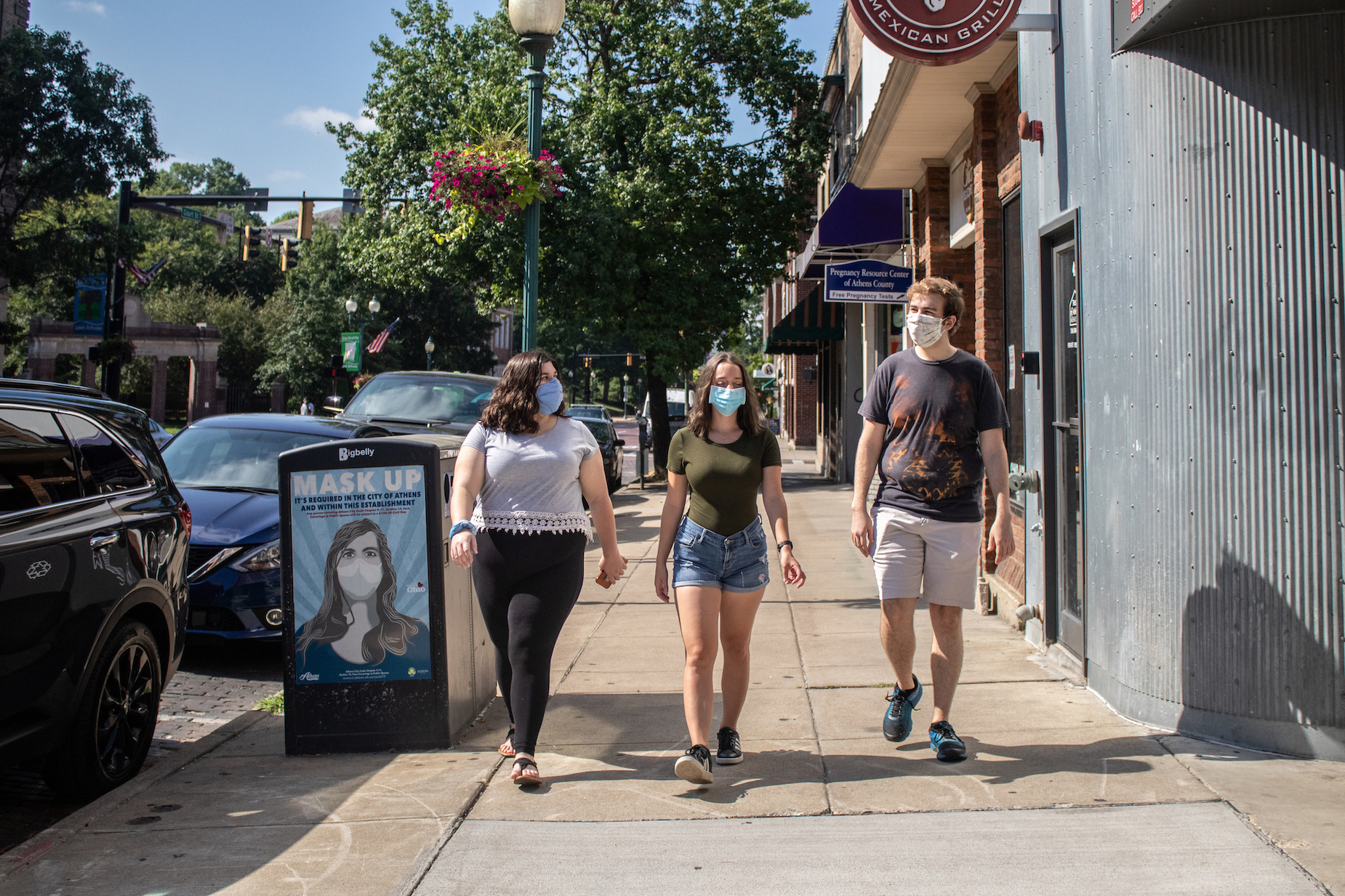 Ohio University Updates Presidential Health Guidelines With New Face Covering Requirements
KN95, N95, KF94 or tri-layer surgical masks are preferred; face shields, bandanas, gaiters, scarves, turtlenecks, masks with valves and balaclavas / ski masks are not acceptable
Ohio University has updated its Presidential Health Guidelines for face covering (mask) requirements. These updates describe the types of masks acceptable on OHIO campuses. As of January 10, 2022, all members of the OHIO community must adhere to these mask requirements.
"Face cover" (or "mask") means a face cover which fits perfectly over the nose and mouth of the wearer and under the chin, and which fits perfectly to the sides of the wearer's face (no spaces on the sides). Face shields, bandanas, gaiters, scarves, turtlenecks, valve masks and balaclavas / ski masks are not acceptable. Community members can wear both a face shield and an acceptable face shield, but not a face shield alone. All members of the OHIO community should carry a mask with them at all times on campus.
KN95, N95, KF94 or tri-layer surgical masks are preferred. Fabric and handmade face coverings are not recommended. Double masking with a surgical mask is recommended for those who use fabric and handmade masks.
All OHIO community members and visitors are required to wear a mask indoors on OHIO campuses and on public transportation, regardless of COVID-19 vaccination status. Students, faculty and staff should use KN95 or equivalent whenever possible.
For those who do not have access to the recommended masks, the University will provide a limited number at the start of the semester, while stocks last. Masks can be picked up from the information desk on the fourth floor of the Baker Center, the service desks on the second and fourth floors of the Alden Library, and the Ping Center. Teachers and staff are encouraged to make masks available in classrooms, administrative offices and other common places for those who need them. Teachers and staff can order masks and other supplies for this purpose through the PPE coordinator in their planning unit.
For more information on the University's Presidential Health Guidelines, visit https://www.ohio.edu/coronavirus/presidential-health-directive.