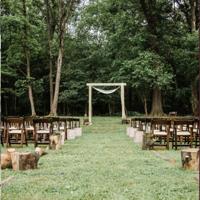 'My job is to make things beautiful': The Barn celebrates 50 years of dressing brides, plus | Winchester star
BUNKER HILL, W.Va. — The back rooms of The Barn Bridal and Formal Wear are a dream come true, no matter what one's fashion sense.
The walls are lined with hangers that hold dresses for all occasions. A long white ball gown worthy of a fairy tale wedding sits opposite a dark green dress perfect for a prom night.
"My job is to make things beautiful. Making people beautiful is what I love to do," said Arlene Pasco, owner of The Barn at 1406 Sam Mason Road. "I like to prepare dresses, because it's magical. It always helps people be their best for something they do once in a lifetime.
Pasco would rather keep her store shelves in pristine condition than be in the spotlight, but that doesn't mean she doesn't love coordinating a big event. Women from all over the region have been visiting The Barn Bridal for 50 years and coming for Pasco's dresses and advice on looking their best.
"People came for all kinds of occasions," Pasco said. "The women I've made dresses for bring their granddaughters to get ball gowns."
Fashion has undergone several transformations since Pasco began selling dresses in 1972, and Pasco has seen it all in its clothing store over the past 50 years.
Brides came to her for a classic wedding dress to wear to an apple orchard wedding and also came to her looking for a wedding dress to skydive.
"Dresses have changed over the years," Pasco said. "They used to go down to the ground and have sleeves that sniffed or popped out. Now wedding dresses can go above the knee and can have long sleeves or no sleeves at all.
Pasco keeps up to date with all the latest fashions like she's new to the business, and one person who helps her keep the store looking its best is Hope Hagley, who came to work for Pasco during her sophomore year of high school. , one of several high school students to work at The Barn Bridal over the years.
Hagley loved working for Pasco so much that she still works for The Barn when she's not working on a bachelor's degree from West Virginia University.
"Arlene knows her stuff," Hagley said. "Working here has been one of the best experiences, and Arlene has taught me a lot."
The store is offering a 10% discount on all special orders for the rest of July in celebration of its 50th anniversary. The company will also be offering 50% off all pageant and ball gowns to celebrate.
And a Fabulous Fifty celebration will be held on July 30 at The Barn Bridal's adjacent special event property – The Meadow at Windy Hill.
For more information, visit thebarn-bridal.com or call 304-229-3388.