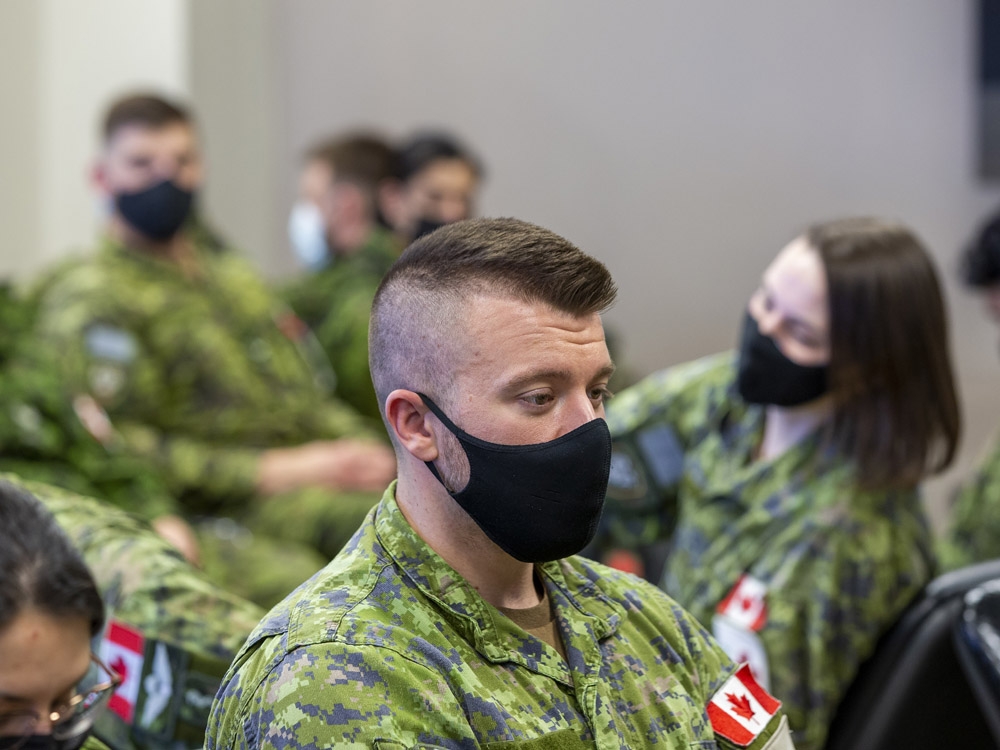 GUNTER: The problem with the new Canadian Armed Forces dress code
Content of the article
Starting in September, members of the Canadian Armed Forces will be able to carry handbags, wear skirts and stockings, grow their hair out as long as they want, and buff their fingers and nails any color they like. .
Content of the article
And I'm talking about the male soldiers.
This fall, the CAF will adopt the most relaxed and gender-neutral dress code of any military in the world.
The official excuse is to bring military culture to the 21st Century and make service careers more attractive to a younger generation. Bullshit.
This is just another example of "woke" virtue signaled by the Trudeau government.
And insofar as this is really about recruiting more soldiers, sailors and airmen (our armed forces are currently understaffed by about 20%), it will have the exact opposite effect. The kind of young men and women who have traditionally been drawn to military careers will likely be put off by the strangeness of it all.
I'm just old enough to remember European experiences with military dress codes and unit discipline during the Cold War, such as the German Hair Force and the Dutch 9-to-5 army.
Content of the article
In 1971, the German army – the Bundeswehr – thought they would get away with it and let hippie recruits sport shoulder-length or even longer hair.
When this was quickly deemed impractical (hair lifting the helmets off the head and falling over the eyes in target practice), German commanders and politicians declared it acceptable to have the long hair out of service, but in service had to be contained in hair nets.
Long hair proved particularly problematic during field exercises where more water had to be carried to wash the hair. And that led to more lice – a lot more lice. The exercise only lasted 15 months before the hair was again removed "das kragen" (the collar).
Regulations mandating short hair were a practical result of the fetid trench warfare of the First World War.
Content of the article
Then there was the Dutch attempt to make the working hours in their armed forces correspond to the normal hours of the civilian workforce – 9-5, Monday to Friday.
"Hello, you have reached the Dutch army headquarters. If you call outside normal opening hours, please leave a message and we will answer you as soon as possible. If you are under imminent threat of invasion , please call Americans or British.
In both cases, the biggest problem produced by these "modernizations" was the weakening of unit cohesion and the deterioration of operational effectiveness.
In other words, discipline has gone to hell and these armed forces have lost some of their ability to fight.
Servicemen and women who don't have to wear a standard uniform or hair length soon begin to think it might be okay to break other rules, like walking in the sun or following orders from commanders.
Content of the article
There will be smug pacifists who will claim that this proves how stupid soldiers are. On the contrary, it demonstrates the importance of a subconscious willingness to surrender one's personal desires to what is good for the comrades.
There may be a few trans recruits drawn to this change in policy, but many other recruits come to the forces seeking adventure, service to the country, or regimentation to find meaning in their lives.
The new loose and less effective armed forces – face tattoos, hoop earrings, ear spacers and "unnatural" hair colors will also be allowed – will be considerably less appealing to many more people. recruits than they attract.
We see during the invasion of Ukraine that the Russians are held back by their lousy and obsolete equipment, their poor training and their overstretched leadership. In an East-West confrontation, we should beat them much easier than we expected during the Cold War.
But are we now in danger of being tripped over by our flowing locks and kitten heels? Welcome to the RuPaul Brigade.