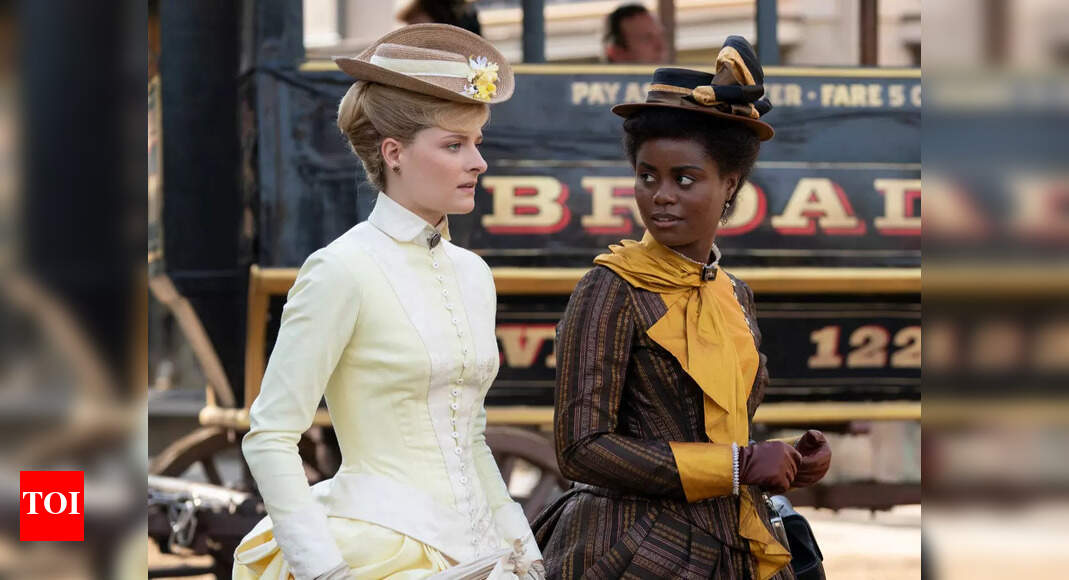 While vintage clothing is often seen as modest with conservative silhouettes, there is still much to learn from the details, finishes, and delicate richness that these suits carry. The Victoria and Albert Museum has some of the avant-garde pieces from the Golden Age. It's truly inspiring how beautiful it is with durability for centuries. Even now with precise and intricate work of hand-made prints and embroidery; brands fail to match the quality of some of these vintage pieces. Get out of the rush of seasonal collections and start focusing more on intricate garments, keeping in mind the vintage era of the 1700s to 1900s.
When we consider something a work of art or a class, we have to look back through the epitome of vintage fashion based web-series, the one and only "Downtown Abbey" which hands down beats the Anna Karenina's costume drama, Colette and even Marie Antoinette's ideal French fashion film. Mary Crawley and her sisters, who can make outfitting for dinner with gloves utterly glamorous. Setting up Chanel's simplicity and class, there's a whole lot more to this early 1900s costume drama. Long dresses, peplums, a low-waisted loose silhouette tucked around elbow-length satin gloves , headbands embellished with crystals and delicate feathers, pendant necklaces, antique pairs of pearl earrings or an eye-catching brooch that can make a costume divine for its idea of ​​Royalty and class.
Guys play in a tuxedo and top hat as Matthew Crawley or have your girlfriends complete the Crawley clan as Lady Edith and noble Lady Sybil with her eye-catching skills for upcoming fashion.

We were just getting over the soothing fashion sense of the 1900s, and the creator of "Downtown Abbey" is bringing another show to HBO that dates back a few decades. This time it brings the mesmerizing magic of New York's fashion era from 1882. We watched the 1st episode of vintage fashion show "The Gilded Age" last week streaming on Hotstar. He sets the bar high with costume designer Kasia Walicka-Mainmone, who worked on around 5,000 costumes for the first season alone. With his team of around 65 people, they did extensive research and worked out the details of the

costumes influenced by the Golden Age era and before and after periods.
"The Gilded Age" is an all-new series on HBO that will offer viewers a promising indulgence in the glamorous and glorifying life of "Old Money" versus "New Money" in New York City. The 1800s era can be visualized through the director's wanderlust that inspires us to travel to New York's Golden Age and experience the journey of lifestyle and luxury living from the upper class, its enduring prosperity, its growing economy and its cultural contradictions. Much can be established between the inner layers of high society wearing "New Money" figures and rising with their brave and daring social activities with

strong charitable participants against established "old money" families.

The story begins with a small-town girl, Marian (played by Meryl Streep's daughter), who suddenly loses her father. Arriving at the age of recognition, she has no family wealth to live comfortably in rural Pennsylvania. She was forced to give up her freedom under the wings of her aunts Ada and Agnes in New York. Mariah is frank but docile with the breath of fresh air. Her costumes give the essence of a traditional shift into a mix of newborn fashion. At that time, New York's Creme de la Creme life was a mix of old and new. On one side is the 'old money' quarter depicted in the characters of Agnès and Ada, true to their vintage style through monochromatic jewel tones, wearing shades of purple, browns and blues while the latter wears gold, orange and red.
The other side shows the distinction with the "new money" character of Bertha Russell who favors heavy ornaments, remarkable headdresses and bright colors showing her position and her new wealth. Being the wife of a railroad tycoon and recently declaring herself "the great lady of all great ladies", Walicka-Maimome says, "she's not trying to break with society, but she's just trying to to be a better version of the old company. I tried to create this subtle difference between her costumes and the 'old money'. The silhouette is the same – no one would dare to break the silhouette – but with Bertha she goes more in the current fashion sense" – in her recent interview.
New York City in the 1800s had a strong impact of Parisian fashion around people who preferred to travel and embrace the trends of the time. Women's fashion and designers such as Charles Frederick were heavily influenced by the waves of French fashion. What was happening on the streets of New York was "new currency" and the ladies of these achievements were royally quick to embrace European fashion. Stating that the well-known costume designer said most of the fabrics came from Rome, Paris and London or were created in the show's costume house. Few vintage materials were used in the period lace and jewelry forms, as they were too fragile to be fashioned into the tight corset dresses. Through his historical research,

his team saw that the "new money" figure often adopted the current fashions of European houses, while the "old money" families bought these same clothes, but kept them until these foreign trends and styles finally reached United States. This reflects the new personalities and their desires to set trends and be bolder, while reinforcing the personalities' old practices of sticking to what is traditional.
While Marian's central character is new to town, her style reflects how she absorbs the lifestyle with old aunts. For all the characters in the series, colors play a huge role in defining the stories in her perspective. The ensemble costumes serve as a representation of the world in the Golden Age and as a divide between the characters of the future society and its real life. If vintage fashion and its splendor are missing, it's time to embark on this powerful web-series packed with vintage fashion, while the rest of the fiction can wait on other digital portals.