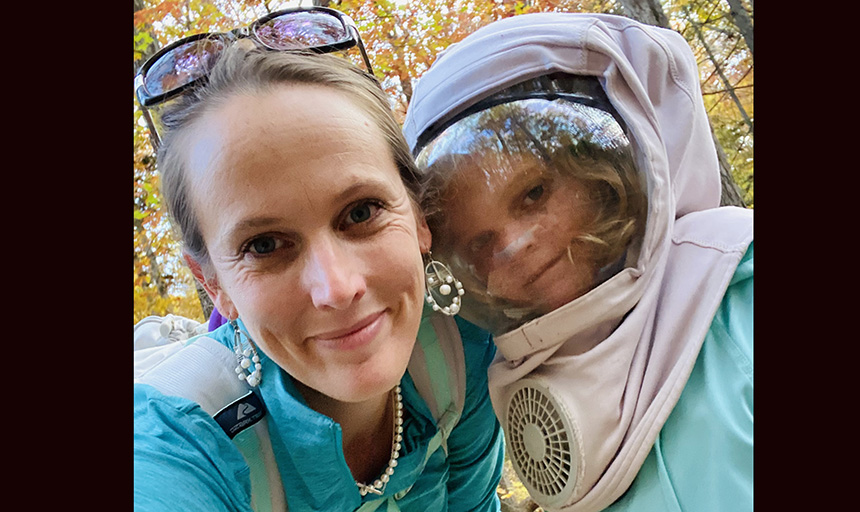 Genetics students have a rare opportunity to learn how to live with a rare disease
Sweet said the experiment was two hours of student questions. She speaks briefly to begin, presenting the students with photos of Emma and an overview of the disease. Then they ask questions.
"The students were very engaged," Sweet said. "They had very good questions — thought-provoking questions — who have demonstrated their critical thinking skills.
Basic questions included: How did Sweet know Emma had XP? What research is there? What impact has COVID-19 had on his situation? What other medical components go with XP? Some questions were more about family dynamics: How does Sweet's son deal with XP? How do you live day to day? What are Sweet's fears?
Sweet said she was emotional after the conversation.
"It's my 'everyday' but when I talk about it I realize how different our lives are from other people's lives," she said.
Sweet's family life is unlike most. Emma has special gear that she has to wear whenever she goes out during the day. She must wear a hat — they call it "Emma's fan hat" because it has a fan inside to keep her cool — two layers of long-sleeved clothing and long pants and gloves. The windows should also be tinted. The windows of Sweet's house and car are tinted, as well as the windows of the rooms Emma uses at school and at church.
Life for the Sweet family was further complicated last year when Sweet's 9-year-old son was diagnosed with celiac disease. Now the family has to bring their own food (in addition to all of Emma's gear) to many activities because it can't be gluten.
Sweet said Emma is doing well, despite living with XP.
"She's a brave kid," Sweet said with a smile. "Very witty, very independent and she can be sassy."
"My job is to make sure she can do whatever she wants to do, but we have to be creative in finding ways to do that," Sweet said.
But they do. Emma rides horses, goes to school, swims in the lake, plays basketball and plays in the playground with her friends.
"Especially with rare diseases, there is no financial incentive for pharmaceutical companies to come up with treatments," Ramesh said. "It is family members who advocate, connect and seek support, more than the communities we typically think of as doing research. It's a big challenge for someone dealing with a rare disease.
Sweet is a dedicated lawyer and keeps herself on top of XP research. She keeps a Google Scholar alert, so she is notified when a new scientific paper on XP is published. Recently, the search in his alert was for Emma.
Because XP can cause cancer from sun exposure, Sweet was warned that Emma could develop skin cancer from sun exposure before she was diagnosed. Earlier this year, Emma had a tumor removed from her scalp. The tumor was benign but a rare neurochristic hammertome. Emma was the first XP patient to have one. The doctors asked Sweet for permission to write a scientific paper to inform other doctors.
The class was "a really rewarding experience," said Marrett Gilfus '22, a biochemistry major. "My grandma actually had experience with the XP camp in New York where the kids only go out at night. So, while I was familiar with the condition, it is so extraordinarily rare that I had never heard of anyone living directly with the condition before. It was truly an exceptional opportunity to understand that, although rare, these diseases touch the lives of people in our community.
If you want more information about XP, please visit xpfamilysupport.org.