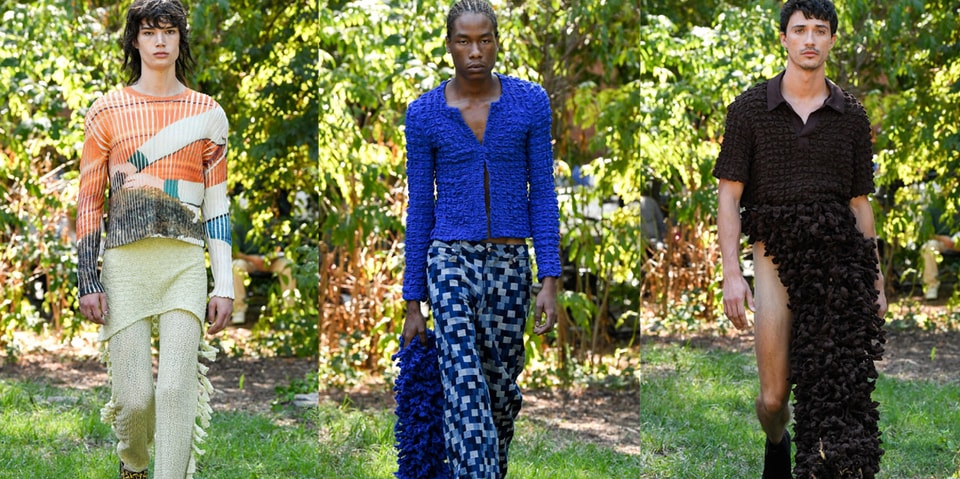 Eckhaus Latta SS23 shapes its own status quo
On Saturday, Eckhaus Latta transformed New York's beautiful El Jardin del Paraiso into a grassy, ​​sunny runway for its Spring/Summer 2023 show.
Under the elegant accents of harpist Mary Lattimore, the models took to the stage wearing abstract metallic knit tops and foil harnesses, fishnet dresses and tank tops, red beaded tops and ribbon sweaters, shorts zippers, fluted skirts and a legion of bubble-inspired. statement makers. Immediately, the collection – led by namesake visionaries Mike Eckhaus and Zoe Latta – conveyed its message to its viewers: Eckhaus Latta marches to the beat of its own drum.
Musician Ethel Cain graced the aisle wearing a sleek bouclé jacket and matching skort in ecru, embodying the imprint's ability to adhere to proper dress codes without sacrificing its brand edge. On Ian Jeffrey, floral-embroidered pants provided an unexpected lift from an integrated skirt with decorative tassels, and on Jacob Bixenman, cheeky, edgy pants, or "bubble object," as the brand calls them. , left one leg fully exposed under a similarly inflated polo shirt.
However, it was undoubtedly the knitted sets printed with the artwork of Matthew Underwood, a dear friend of Latta who died in 2019, that made the collection impactful. Underwood's legacy – marked by his inventive penchant for the art of blending mediums through audio, electronics and performance art – has manifested itself physically through a series of assemblages of ribbons and leaves. And to celebrate the visionary's life, the label made a donation to the Trevor Project, a nonprofit focused on suicide prevention efforts within the LGBTQ+ community, in his name.
Indulge in Eckhaus Latta's Spring/Summer 2023 collection in the gallery above.
Elsewhere, Balenciaga and Sky High Farm Workwear revealed a charity collaboration.