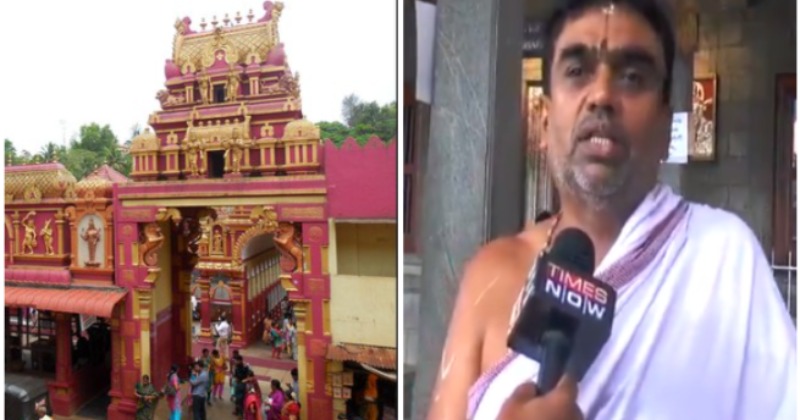 Dress code for women enforced in more than 200 temples by Dakshina Kannada
From schools to corporate offices, most regulatory bodies have dress codes. But do you think a place of worship should have one too?
Well, it looks like that may be the case in Karnataka state.
The state of Karnataka Dharmik Parishat, a government religious body that looks after more than 211 temples, has decided to implement a dress code for worshipers in the 211 temples in the district of Dakshina Kannada.
To make it compulsory for people, the religious body issued the banners.
Harinarayan Asranna, a priest, said: "We urged the faithful to follow a dress code that respects our Hindu cultural values. Saree is preferred for women and it should be worn so as to properly cover her breasts. For men too, we decide.
#dakshinakannada temple officials say no to women who wear jeans. They released new guidelines saying women should wear culture-friendly sarees. And they should cover their breasts properly. #BajrangDal put up posters ordering people to dress properly.#Karnataka pic.twitter.com/v6QpZ9IUXI

– Imran Khan (@KeypadGuerilla) October 6, 2021
The member of Bajrang Dal, a Hindu nationalist organization, also urged the temples of Dakshin Kannada to follow the application of the dress code. After obtaining the consent of the government, the Dharmik Parishad of the State of Karnataka will begin to enforce the dress code in a gradual and phased manner.
However, internet users have had mixed reactions to authorities enforcing the dress code.
Recipe to destroy the IT and innovation hub in India. Sad

– Amitabha Saha (@ asaha71) October 6, 2021
Suddenly I refresh the flow and booooh I live in 1890😐

– Ameesha (@_Ameesha___) October 6, 2021
Mard ko apni nazar pe kam bharosa hai,
Isliye har mazhab me aurat pe parda hai.

– Write it down (@ shambhu2005) October 6, 2021
Yes, very good decision. Must be imitated in all Hindu temples.

– ࿗ Rāma Jāmadagnya ࿗ (@rAma_jAmadagnya) October 6, 2021
Is there a dress code for men as well? Fully covered? Partially covered like him? What if we only wore the very traditional kaupinam or langot? Are Digambara Jain Munis allowed in these temples as visitors?

– Ved Nayak (@catcheronthesly) October 6, 2021
Well, American places of worship have always had the dress code … Better late than never.

– Patriotic Indian 🇺🇲 (@ INDNationalist2) October 6, 2021
There is nothing wrong with wearing sarees on the temples, it is a mark of respect. And yes, jeans shouldn't be allowed. If we can follow the dress code at the office / club why not in the temples🤷🏻‍♀️

– Priya kawale (@ priyakawale10) October 7, 2021
Well
All Hindu temples should have an appropriate dress code

– SURYA (@Da_Bong_munde) October 7, 2021
Currently, the umbrella organization has made traditional dress compulsory at two temples in Dakshina Kannada district. The two temples where the dress code has been implemented are Kateel Durgaparameshwari Temple and Polali Rajarajeshwari Temple, respectively.
According to Times Of India Reports, the religious body is responsible for making recommendations on the conduct of rituals, pujas, as well as matters related to the dress code of worshipers visiting temples, controlled by the government.
Hindu religious institutions, as well as charitable foundations, will first have to approve the recommendations made by the Karnataka State Dharmik Parishad. Later, they will be sent to Cabinet for further approval.
For regulators, a dress code makes perfect sense, but moral policing on women in particular seems too much. On top of that, recently a 19-year-old student, who showed up in shorts for an entrance test, was forced to wrap a curtain around her legs after she was not allowed to take the exam in the city of Tezpur, Assam.
So what do you think of the dress codes imposed on single women?