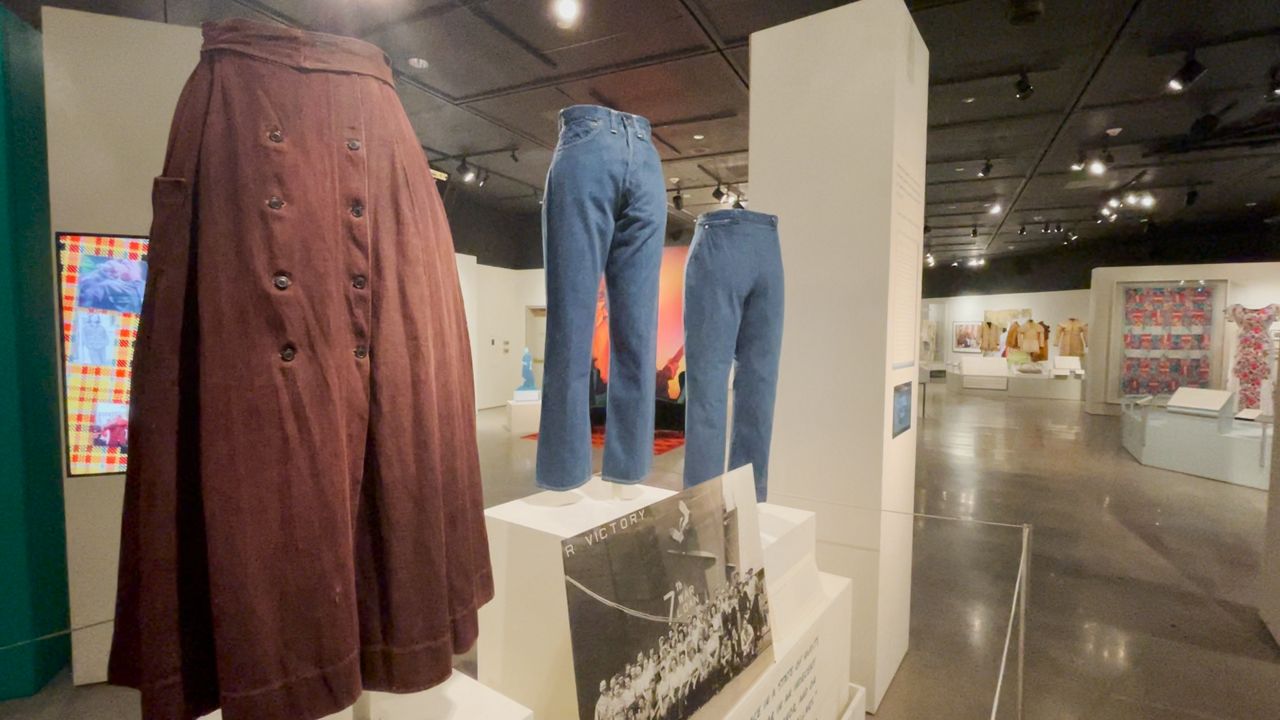 Autry's exhibition explores the history of iconic garments
Deciding what to wear is a daily decision, and each item of clothing sends a message.
"Whether we realize it or not, we still make decisions about how we dress and we communicate our ideas of yearning for belonging, our challenge to the clothing choices we make, and that's something that everyone can understand," said Carolyn Brucken, chief curator of the Autry Museum.
Brucken and his team have spent the past five years curating a new exhibition called "Dress Codes" at the Musée d'Autry.
"What men or women wear can be a dress code. How do you express your sexual identity can be a dress code. The way you protest norms or restrictions can be a violation of dress codes," Brucken said.
The exhibition was supposed to open in May 2020, but the pandemic had other plans and ended up forcing them to reschedule twice.
"If you're a blue jeans lover, we have a section on that. We stand in front of the aloha section where we watch the surprising story of the aloha shirt," Brucken said.
There's even one worn by President Truman, but Brucken's favorite section concerns the history of the plaid shirt, which may conjure up images of lumberjacks and ranchers, but actually takes on many unique identities.
"LA plaid has been worn by multiple subcultures outside of the mainstream in Los Angeles, from San Pedro dockers to surfing subcultures to low riders," Brucken said.
She said that in many cases the clothes themselves hadn't changed much. What has changed is the way people wear it. There is also a section on the fringed leather jacket and the China Poblana, a Mexican-American style of clothing.
"You can see visitors having conversations throughout the exhibition. People are reacting, connecting to the clothes on display and connecting them to their own lives and that's what we hoped would happen," Brucken said.
"I'm not really sure if I was thinking about denim before or plaid so much," said Amy Hand, who was coming from Long Beach for the first time.
She said she enjoyed learning how different styles reflect Western culture. Jeans, once intended for the working class, are now common wear for the office and parties.
"We wear them every day, and it's Americana," Hand said.
Visitors are also encouraged to share their own thoughts on their favorite clothes and what fashion means to them.
"We have clothes that go back to the 19th century as well as very contemporary things that were worn yesterday," Brucken said.
Over 150 objects, each with a story to discover.
Share your thoughts at "Inside the Issues" and watch Monday through Friday at 8 p.m. and 11 p.m. on Spectrum News 1.