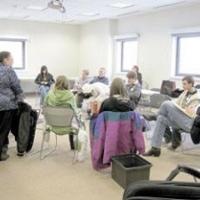 ACCORD Corps Youth Summit 2009 | News
ALFRED – About 150 Allegany County youth responded to a presidential call to action Thursday at Alfred University. Children came from schools across the county to attend the 2009 ACCORD Corp Youth Summit.
Tracy Broshar, associate director of ACCORD's after-school program, said the summit is part of the agency's 21st Century program, which receives funding from the New York State Department of Education. She said it was the first of five years of funding.
Ms. Broshar said nearly every school in Allegany County chose about 15 to 20 students to attend the event. She said the location of Alfred University was chosen because of its learning initiative for Alfred's children.
The day began at Harder Hall with a video featuring a presidential call to service. Then, JT Robertson from Cuba gave his opening speech.
Mr Robertson, who is 12, is known for his efforts to enable those who cannot enjoy the Arcade/Attica Railway to do so. His work eventually inspired the ABC network's Extreme Home Makeover team to make the train handicapped accessible.
Mr. Robertson shared with the youth how he started his Make a Difference Day project. Then the young people went to several hours of workshops. Some workshops were seminars that taught young people how they could make a difference.
Kate O' Stricker, an educator from Cornell Cooperative Extension, led one such panel. She taught students ways to advocate for healthier schools. They discussed healthy fundraising, school meals and nutrition, physical education and school health services. In terms of application, she taught students how to apply for improvements in these areas.
Other workshops focused on projects for the benefit of the community. Some students have prepared plants for a community garden they plan to tend to in Belfast. Ms Broshar said others made 20 lasagna noodles for the Christian Temple soup kitchen in Wellsville.
She said some students prepared dog treats for the SPCA Serving Allegany County. Others collected dresses.
"We have about 60 donated formal dresses," Ms. Broshar said. "Any local girl who needs a dress can get one for free."
Other students built and painted planters for local Habitat for Humanity projects.
"Which is good," Ms. Broshar said, "because a lot of people don't realize we have it (Habitat for Humanity) in this area." She said many people only think of Habitat for Humanity as benefiting areas devastated by natural disasters.
Emily Timbrook, a junior from Alfred-Almond Central School, said she found the workshops very helpful.
"If we were to go back and change our schools, we have everything we need to do it. It's just a matter of willpower," Ms Timbrook said. "I think most people think they wouldn't be able to. But it shows us that it's not that hard.
Developed by kids, approved by adults
The 2009 ACCORD Youth Summit may have been administered by ACCORD, but it was not the adults who designed the workshops.
"The Youth Advisory Council actually planned all of the events," said Tracy Broshar, associate director of ACCORD's after-school program.
She said the Youth Advisory Board (YAB) of ACCORD's 21st Century program is made up of students from most schools in the county. At the summit, about 12 of them met at a workshop with Shawnee Wright of Partners for Prevention in Allegany County and Sheriff William Tompkins.
Ms. Wright gave a presentation on how young people could impact their community in many ways. In addition to the often-talked-about drug and alcohol activism, Ms. Wright outlined other areas where young people could help their communities.
She suggested students think about ways to help incarcerated youth reentering the community.
"Is there anything the young people could do together to help them as they return home? she asked.
The YAB was also featured with the Sheriff Telling our Parents and Promoting Educated Drivers (STOPPED) initiative.
Sheriff Tompkins said the program was founded at the Onandaga County Sheriff's Office. The program provides windshield stickers to parents who register their car. If a car is stopped, a notification is sent to parents.
"If the ticket is there, it's probably going to make you think twice about speeding, make you think twice about doing things that will make you stop," he said.
Ms Wright said Wellsville Central School was the first in the county to adopt the program. She said to park in the school parking lot you must have a vignette.
Ms Wright said the group will meet in April and then look to make presentations to area school boards in May. She said Sheriff Tompkins would accompany them.
However, YAB members are looking to do more than just spread STOPPED.
Group members have chosen assignment roles including chair, webcast specialist and community service specialist. The group will coordinate its efforts through meetings and webcam discussions.
Ms Wright said the group will choose a community service project once every term.